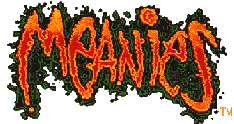 Mystery Meanie Official Rules
This Contest Has Been Completed
Got all 12? If you purchased all of the original 12 Meanies, then you are eligible to receive a thirteenth Meanie, the "Mystery Meanie."
Proof of Purchase + $2.95 S+H. You must send us proof that you purchased each of the original 12 Meanies. Proofs of purchase that will qualify are: a register receipt, hang-tags (or copies of the receipts or hang-tags). Only one (1) Mystery Meanie per household may be redeemed.
Send it by December 31st, 1998. Please send your proofs of purchase, a card containing your name and address printed or typed, and a "check or money order" for $2.95 to cover shipping and handling (no cash please) to:
Mystery Meanie, The Idea Factory, PO Box 749, New York, NY 10018
All entries must be postmarked by December 31, 1998. Please allow 8-10 weeks for delivery. Shipment is on a first come, first served basis, and only while supplies last. (Your cancelled check serves as the official acknowledgement of your prize claim, no such acknowledgment will be sent in connection with money orders.)
Final Say. All decisions regarding shipment of the Mystery Meanie are made by The Idea Factory or Topkat, L.L.C. and are final. We reserve the right not to ship a Mystery Meanie to anyone who we believe has not "fully and fairly complied" with these rules. Neither Topkat, L.L.C. nor The Idea Factory will be responsible for any lost, delayed or misdirected mail.
Refund. No refunds or returns permitted. However, we will refund your $2.95 if we do not ship a Mystery Meanie to you.
Void Where Prohibited. This promotion is void where prohibited by law. Offer open to U.S. residents only. Principals and employees of The Idea Factory, NY Toys and Licensing, Inc. Topkat, L.L.C., their sales representatives, immediate families, and affiliates are not eligible. You must be under 18, or act like you are under 18, to participate.
Order Your Set Today!!!

All Decked Out ~ Copyright © 2002 ~ Be. Site Designs and Top Gun